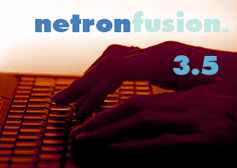 With flexible application frameworks, proven reusable components, and robust development and diagnostic tools, Netron Fusion™ delivers powerful support for component-based development.
Netron Fusion™ lets you harness the power of software reuse and quickly build complex business systems for any architecture so you can meet today's critical requirements. Our approach to software reuse has been shown to produce core systems 70% faster than the industry average -- without making you switch to a brand new programming language.
Fusion's component-based approach lets you separate standards and business rules from the technical architecture, making it easier and faster to move existing systems forward while collapsing your maintenance effort.
Plus, it delivers the most critical requirement for large-scale projects: an open architecture for maximum flexibility and complete control over the development process.
Netron Fusion™ consists of four major parts:

- project management and organization tools
- application components
- application construction tools
- analysis/diagnostic tools
System Requirements
Windows 7 Professional or Ultimate 
Windows Vista Business or Enterprise
Windows XP Professional with Service Pack 2 or higher
Windows 2000 Professional with Service Pack 4
Microsoft Internet Explorer 5.5 or greater
User account with administrative priveleges to run the installer
Hardware Requirements
An IBM-compatible PC with an optical drive (CD-ROM or DVD-ROM)
256 MB free memory (512 recommended)
1024 x 768 resolution monitor (1280 x 800 or higher recommended)
300 MB free disk space on your hard drive
(does not include space requirements for your source code)
Target Environments Supported
IBM z/OS or z/VM (CICS, IMS, Batch)
UNIX
AS/400, iSeries and System i
Open VMS
32-bit Windows (Windows 7, Vista, XP, 2000)